I first learned of this over at TexasFred's blog.
Texans join uprising against RNC rules change

Republicans from Texas are leading a mutiny at their national nominating convention in Tampa and fighting proposed rule changes that they say amount to a power grab by entrenched GOP operatives at the expense of grassroots activism.

The issue could explode in a floor fight Tuesday, just after Republican leaders open the first full day of the convention and turn to consider party rules. Although the process is usually a quiet one, the dispute over the new delegate selection process proposal advanced by Mitt Romney supporters threatens to shine a spotlight on the schism.
You should go read the rest of the article he posted.  I'm going to take a different approach than he did. After I read his post, I decided to do a little research on the process and what it is that is being challenged. So – HERE (opens up a .pdf) are the rules for the 2012 RNC Convention:
DELEGATE SELECTION PROCESS

The states are listed alphabetically below; please scroll to your state for information concerning how its 2286 authorized National Republican Convention delegates are selected. It takes 1143 delegates to select a nominee. Each state's total number of allotted delegates is shown, usually broken into three categories: RNC, CD and AL.

The RNC delegates are that state's representatives on the Republican National Committee comprised of the GOP State Party Chair and its National Committeeman and Committeewoman.

The CD delegates come from each state's Congressional Districts. They usually are elected either by voters in that state's Presidential Primary or by delegates to the Republican State Convention.

The AL (At Large) delegates are not selected from any specific districts, but rather from the state as a whole. They usually are assigned candidate representation reflecting their state's Presidential Primary results.

Both the AL and CD delegates normally are "bound" to the candidate they represent for a certain voting period during the National Convention. Examples: one round of convention voting, two rounds, until released by candidate, or by a vote of the entire state delegation. This "binding" becomes extremely important if the Party's nominee has not been determined by the Primary Elections prior to the National Convention, as the delegates then will be free to vote for a different candidate once they are "unbound." It takes 1143 delegates to nominate the GOP's 2012 Presidential candidate.
If there is a convention or caucus process, it is important to be a part of that process from the beginning, so check the dates carefully and plan to participate either to become a National Delegate yourself or to be sure that those representing your state reflect your pro-life, pro-family values. There are an equal number of CD and AL alternates elected who would be seated in place of absent delegates. Those spots should also be filled by pro-life, pro-family individuals.
If you want to see how the individual states determine their apportionment of delegates to any candidate – check out the .pdf file up there.  Okay – so that's the 2012 process.  And – from Michelle Malkin's blog – here is the proposed rule change:
This past Friday, the RNC's Convention Rules Committee voted – after several contentous votes – to change the party's rules to allow future presidential candidates to have veto power over who can be delegates from any state – in other words, take power away from the grassroots and their ability to elect fellow conservatives as delegates.

This represents a brazen move by several Washington Beltway consultants and party insiders to diminish the power and influence of conservatives over the party.
Go to her blog to read the full story – this is being reported by a long-time blogger that is at the RNC Convention and attending the Rules Meetings.
Okay – the rules issued by the RNC states that certain delegates are "bound" to their candidate unless specifically released by that candidate to be able to vote for the Presidential nominee of their choice.  Depending on the states – some are all or nothing and others may be apportioned.  For instance – here in Florida – it is a winner take all apportionment – meaning since Romney won Florida – he gets all of the delegates.  Texas is a different story – they have "At Large" delegates that are apportioned proportionately among all candidates in addition to "Congressional District" delegates that are elected or selected at state conventions. They are equally apportioned congressional district within a certain % threshold. There are generally more CD's that AL's.
So, here is the problem – we'll use Texas as an example – the numbers aren't real, but they are based in reality.  Lets say Texas has 100 total delegates – under the proportional system – each candidate gets the proportion of delegates to the proportion of votes they received in the primary election.  Romney got 69% of the vote, so he should get 69 of the total AL & CD delegates. Ron Paul got 11.9% of the votes, so he should get 12 of the total AL & CD delegates. Rick Santorum got 8% of the vote, so he gets 8 delegates, and so forth and so on until all delegates are assigned to the candidates.
So – these delegates are "bound" to their candidates in Congressional District Caucuses in which they cast their votes for their candidates.  This is the way it has always been.  It allows for minority candidates to have a seat at the table.  During these caucuses, delegates can actually try to win over other delegates to their side in future rounds of the caucuses.  The states set the terms for how long a delegate is "bound" to their candidate and when they can choose to move over to another candidates side to cast their vote.  In some cases, you will hear that certain candidates have already specifically released their candidates to vote as they wish – or the candidate doing the releasing will release them to another candidate.
What is at stake is that the GOP is attempting to give the "presumptive nominee" the authority to choose his delegates and disavow state elected delegates selected to represent another candidate.  What the GOP see as a threat is that, as previously mentioned before, minority delegates can work hard to bring their candidate's platform to the other delegates and potentially win over a majority of the delegates and choose a minority candidate as the state's candidate.  So, for instance – in Texas where Romney won 69% and Ron Paul won 11% – Ron Paul supporters could pull over a majority of the 69 to their side – building up steam, until they get to the last round – if they have a large majority – the rest of the delegates will go to the majority side – whereby giving all 100 delegates to Paul instead of Romney.  This is how our convention system works.
There is no such thing as a "presumptive nominee."  In our convention system – you don't have a presidential nominee until a single candidate receives the majority delegates.  In this case, for 2012 – that magic number is 1,143.  The GOP is afraid there are enough Tea Party people who would rather see Santorum, or Gingrich as the Pres and Ron Paulite supporters out there that don't want Romney as the Presidential candidate. If they can muster enough delegates to keep Romney from reaching that 1,143 number – he will not be the nominee.  They will have to start the process over until they find a candidate that can get that number of delegates.
If you recall – Hillary managed to get 1,000 delegates on her side and it was holding back Obama's ability to be named as the Presidential candidate.  Hillary had to release her delegates and personally nominate Obama before he was able to reach that goal.  The GOP is afraid that will happen here and that the Tea Party candidates and/or Ron Paulies won't release their delegates.
I say, so what?  This is America and this is the way our election process works.  We should NOT be allowing those good ol' boys in the GOP establishment to start dictating to we the people who we have to choose as our President.  This is an affront to our electoral process and an affront to conservatism.  The establishment isn't happy that we're not happy with their chosen RINO.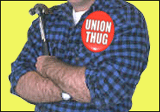 Wow, my hometown of Tampa had a major blowout at the Townhall meeting on healthcare tonight.  Damned, I wish I were there tonight.  But – here's the deal – the Dems are so freakin' scared of WE the PEOPLE that they have called out the REAL MOB – union organizers have now been contracted out to attend the townhall meetings in order to "counter" your protests.
Scroll down to the bottom of this article and here is what you find:
Also Thursday, the AFL-CIO announced plans to mobilize labor activists to attend town hall meetings in 50 congressional districts this month to counter the conservative protesters.
Make sure you read the rest of that entire article – Freakin' Harry Reid is saying these townhall protests by we conservative Americans are staged.  He is so fuckin arrogant and out of touch that he can't believe that the country really is outraged by their activities up there.  Sure, you and the rest of the idiot dems just keep it up – you are all but guaranteeing your asses are gone in 2010.  You RINO's out there supporting this power grabbing bill and others like Cap and Trade – this serves as a warning to you to – you have awoken a sleeping giant – America is finally starting to pay attention and we aren't going to take any of your shit either.
I'm also getting sick and tired of the media siding with the libs continuing the lies and trying to state these protests are organized by Republicans and other media talking heads.  Guess what – these are REAL Americans with REAL issues.  Every article I have read about these townhall protests always state, as if it were fact, that these are all orchestrated and everyone who questions their representatives are just plants.  Forget the polls now state that almost 60% of the population is against this bill.  You just keep up your biased reporting – its no wonder MSM outlets are tanking everywhere.
The point of this post is for all of you that will be attending townhall meetings – be prepared to get roughed up by union thugs – if you don't believe it – check out the link regarding the Tampa townhall meeting.  Some SEIU thugs beat up one of the protestors outside of the doors to the meeting.  Obama has turned his administration in to a thugocracy by fascist means and he is using his ACORN and SEIU goons to stifle your freedom of speech.
Keep up the good fight people – there is a paradigm shift going on – we need to make sure the politicians once again fear the people.